Our products
A summary of our product focal points can also be found in our company brochure:
Distributed Servo Drives KSD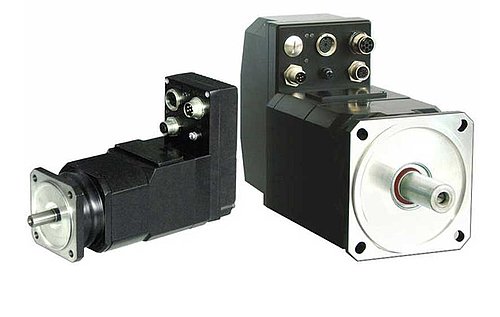 GEORGII KOBOLD – The distributed KSD servo drives consist of a highly-dynamic servo motors with an integrated servo amplifier. They can also be equipped with a gearboxes and brakes.
The KSD series offers a wide variability and a high integration capability; they are best suited for modular machine concepts in combination with a variety of independent axes. Integrated electronics allow for the effortless connection to common bus systems like Profibus-DP, CANopen or RS485. The on-board digital and analog I/O and the integrated technology functions allow for simple or single-axis drive applications with PLC to be created without a bus system.
Compact drives for intermittent operation to be mounted directly on the machine
Positioning, Speed and Torque control as well as electronic gearing
Digital 4-Quadrant Controller
Integrated flow control
Isolated Fieldbus interfaces:

CANopen DSP402
Profibus DP
RS 485

Separate RS 232 interface for configuration
Versions for connection to 24-60 VDC or 230 VAC power supplies
Separate 24 VDC logic power supply
Status and diagnostic functions via LED's
Digital and analog inputs and outputs
Optional:

Safe Stop according to EN 954-1 category 3
Various encoder systems
Holding brakes
Planetary gearboxes
Find your suitable motor!